2019 Kia Soul EV Performance & Features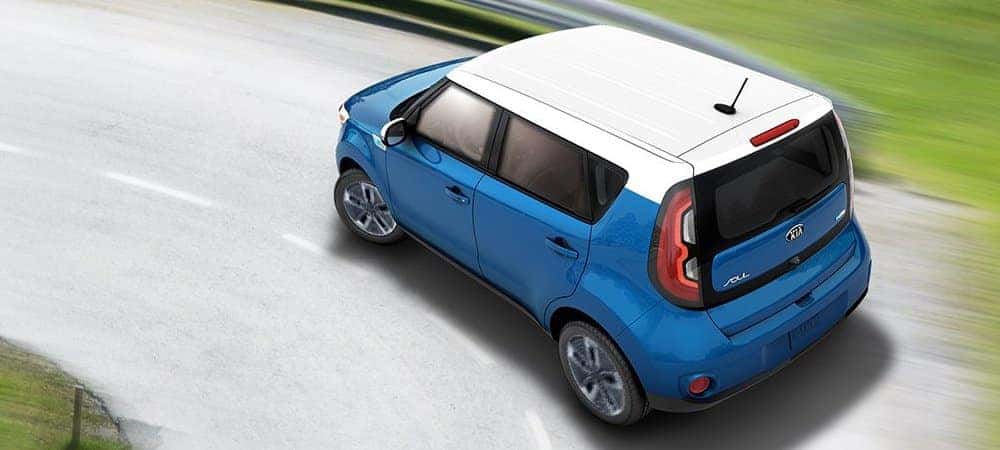 The 2019 Kia Soul EV uses cutting-edge technology to deliver the fastest charging time out there. Explore the additional thoughtful performance boosting features that make this stand-out electric vehicle below!
Electric Power and Performance
The Soul EV features a unique engine with a multi-layer magnet design to provide a quiet and smooth, yet powerful, performance. The lightweight design allows for quick acceleration and it's ultra-dense lithium-ion polymer battery packs more energy to maximize driving range. The unique battery also delivers impressive engine specs:
Maximum Torque: A notable 210 lb-ft of torque is available instantly with the electric drivetrain of the Soul EV, giving you immediate responsiveness.
Maximum Horsepower: Hit up to 109 hp with the electric motor on the EV.
In addition to packing a punch, the battery has been placed under the floor to allow for a lower center of gravity, more responsive handling, and more cabin space.
Get Charged Up
With the fastest charging on the market, over 45,000 240-volt charging stations, and a rapidly growing DC Fast Charge infrastructure, charging the Soul EV is hassle-free. Choose between three charging options:
120-volt: Use the included outlet charger and plug your Soul EV straight into the wall like any other appliance.
240-volt: Install this high-power charger and fill your battery in as little as 4-5 hours. You can even use the available UVO eco app to schedule charge times when electricity rates are at their lowest.
480-volt Direct-Current (DC) Fast Charge: The fastest way to power up, this 50kW charger can get your battery to 80% charge in about 30 minutes with a 50kW charger. Find the CHAdeMO DC Fast Charge port standard on the Soul EV.
Power Saving Features
Additional features that help stretch times between charging and optimize the performance of your Soul EV include:
UVO eco app: Schedule charging, start remote charging, or find a charging station from the convenience of your smartphone. UVO also pairs with Google Assistant or Alexa to enable voice commands from your tablet or home device.
Heat Pump: This efficient AC and heater in one helps maximize your mileage by using waste heat from the car's own power electronics to further your energy savings.
Air Induction Control: This system automatically adds outside air as needed to help maintain the cabin temperature you want without using more energy. It's also linked to a humidity sensor to help keep your windshield from fogging up.
Driver Only Option: This option helps conserve energy by isolating ventilation just to the driver when there are no passengers in the vehicle.
Regenerative Braking System: Whenever you decelerate or go downhill, the regenerative braking system recovers energy that would otherwise be lost and uses it to recharge the battery.
Plug-in to the EV at Cable Dahmer Kia of Lee's Summit
Interested in taking the plunge and plugging into the 2019 Kia Soul EV? The associates at Cable Dahmer Kia of Lee's Summit can get you started. From answering questions about Kia accessories and if the Kia Soul is AWD to helping with financing, we are here to ensure you have a stress-free car buying experience. Contact us today!
More From Cable Dahmer Kia of Lee's Summit
The 2020 Kia Optima sedan has six trim levels for Kansas City drivers to consider. With a low fuel economy and inclusive features on the base model, the Kia Optima is an excellent option for drivers who want the latest features on a budget. Each trim level comes equipped with a powerful engine, producing a maximum…

The 2020 Kia Sorento safety rating has an overall score of "good" by the IIHS and NHTSA in head-on, side, and rear collisions. Armed with a plethora of safety features and a durable exterior, the Kia Sorento has undergone multiple crash tests to ensure your family's safety on the streets of Kansas City. All our new…

There's a little something for everyone when it comes to 2020 Kia Optima colors. Some Lee's Summit drivers like bold colors, while others like a more classic appearance. Take an in-depth look at the Kia Optima paint colors and interior trimmings here, and then, head into Cable Dahmer Kia of Lee's Summit to explore the Kia Optima colors in person. When…