The 4 Best Brunch Spots in Lee's Summit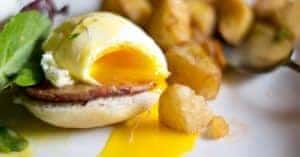 There is nothing better than a good brunch. Most places serve it later so you can sleep in, and you get both breakfast and lunch choices. In the Lee's Summit area there are a number of excellent brunch spots where you can go for some bacon and eggs along with sandwiches and other lunch choices. Here are some of the best brunch spots in Lee's Summit.
Ginger Sue's
Ginger Sue's on NE Sycamore has a large selection of brunch choices whether you want pancakes, eggs, or a burrito. The French toast with fruit compote comes with huge pieces of toast topped with homemade fruit compote. The kids are sure to love the chocolate chip pancakes, and their eggs Benedict is delicious with some options that you don't always see. If you enjoy salmon, try their salmon Benedict with scrambled eggs topped with a creamy hollandaise sauce. Keep in mind that Ginger Sue's gets very popular on weekends so prepared to wait if you want a Sunday brunch.
The Egg & I
Enjoy your brunch at The Egg & I either inside in the dining room or outside on their patio. Make sure to try the Hiker's Benedict with poached eggs, ham, bacon, asparagus, and house-roasted crimini mushrooms and tomatoes. All this comes piled on an English muffin and then topped off with creamy dill hollandaise. This place also has a great selection of omelets, frittatas, and scrambles, or you can get a skillet and hash. The Cambridge Skillet comes with smoked ham, bacon, on top of ranch potatoes, with two eggs, and jack cheese and topped off with hollandaise sauce.
Neighborhood Cafe
The Neighborhood Cafe is a popular place for brunch on the weekends. Expect to see fresh cinnamon rolls at your table when you sit down and indulge in the delicious coffee. Make sure to try the turkey avocado eggs Benedict, or the prime rib Philly. Another local favorite is the chicken and biscuit with a wonderful mustard sauce. It comes with a huge portion of fried chicken on top of a homemade biscuit served with a side of their signature sauce. You'll find this locally owned place on SE 3rd St. in Lee's Summit.
Whistle Stop Coffee & Mercantile
If you want a more low-key brunch experience, then stop in at the Whistle Stop Coffee & Merchantile. This place has a breakfast sandwich unlike any other. The sandwich comes on a thick piece of focaccia bread, and you can get it with the meat of your choice. There is also the Saucy CJ with roasted chicken, bacon, egg, and swiss cheese with a red pepper spread that is fantastic. Make sure to try their coffee or one of their alternative coffee drinks, like a latte, a pour over, or a chai.
The next time you can't decide whether you want breakfast or lunch, try one of these great brunch spots in the Lee's Summit area. You can get the best of both worlds, and you can even sleep in since brunch goes right up through lunchtime. Brunch is a great way to spend time with your family and friends on any weekend.
Image via Flickr by erin