4 Best Kia Models for Families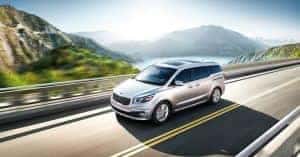 There's a lot to consider when shopping for a new family car. It needs to be spacious, safe, and have plenty of cargo space. If it comes with extra features like USB ports and rear DVD players to keep the kids entertained, all the better. Then there's the budget — how do you buy a decent family car without it costing an arm and a leg? Kia has a lineup of family cars that will meet your needs without blowing the budget.
Kia Sedona
For those with a larger family looking for a minivan, look no further than the Kia Sedona. The 2017 Sedona is one of the best-priced minivans on the market. This three-row van seats seven comfortably. Tri-zone automatic climate control means each row can enjoy customized heating and cooling. The Sedona also features dual sunroofs above the second and third row. While noisy kids may drive you nuts, the Sedona's noise won't. The hushed interior makes for a pleasantly quiet ride. Messy kids are also no match for the Sedona, as the stain-resistant seat fabric repels stains and odors.
Kia Optima
For a midsize sedan, the Optima is surprisingly spacious with a roomy interior and sizeable trunk. It's a looker, too, with sleek European styling and a coupe-style roofline. Long drives are comfortable with solar control glass that keeps the family cool. The top-end SX and SX Limited models also feature rear door window sunshades, perfect for keeping the sun off a sleeping baby. The Optima scored top marks in crash tests with both the National Highway Traffic Safety Administration and the Insurance Institute for Highway Safety.
Kia Sportage
For an active family, this small SUV is practical and versatile. The 2017 Sportage got a full redesign. It's slightly longer, making for a roomier backseat. The reworked suspension allows it to handle bumps and rougher surfaces even better than before. For moms laden with grocery bags, the hands-free liftgate opens automatically by sensing the key near it. The LX and EX trims come with a 2.4-liter four-cylinder engine. If you want a bit more oomph, the SX Turbo model has a more powerful turbocharged 2.0-liter four-cylinder engine.
Kia Soul
It's easy to overlook the Kia Soul as a family car. It's small and unassuming, but this compact crossover deserves some consideration. It offers a good quality spacious interior with a high roofline that makes getting in and out easy. Features include rear child safety locks and a rear-seat folding armrest with cup holder that's great for sippy cups. Plus, there's enough cargo space to lug diaper bags and toys around — 61.3 cubic feet with the rear seat folded. It's extremely affordable and an excellent choice for small families on a tight budget.
Kia has certainly made inroads into the United States. Sales of Kia vehicles reached an all-time high in the U.S. by the end of 2015. Perhaps they are doing so well because they're so good at meeting the needs of the American family. All four these Kia models made it on to best family car lists by Parents Magazine, Edmunds.com, and Kelley Blue Book.
Image via Kia Motors