4 Tips for Winter Road Trips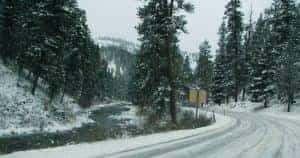 While many people like to stay put in the winter, it is still a great time for a road trip. Whether you want to head to the mountains for a ski weekend or you just need to get home from a trip, there are some precautions you should take before heading out in the car. Here are some tips for a winter road trip.
Prepare the Car
Always make sure your car is ready for a winter road trip. This means checking the tires and the treads to make sure they are in the right condition to travel in wintry weather and checking all the fluid levels, including the windshield wiper fluid. Always make sure you have a full tank of gas, and when on the road, fill it back up before it gets below half a tank. This will help to make sure your gas line does not freeze up. If you head out on a long road trip, have the battery tested before you leave. If the battery is old, it might have a hard time holding a charge when the temperatures drop.
Pack an Emergency Kit
You should also pack up a winter survival kit to keep in the car. This should include flares, water, food, and an extra flashlight. Always keep an extra blanket in the car in case you get stuck and need to keep warm, and keep a cellphone charger in the car so you can keep your phone fully charged and always have it when you need it. It is also a good idea to keep a paper map in the car. Although we do not use them very often, if your GPS has trouble locating satellites, you can use the paper map in an emergency.
Check Your Route
Before you head out on the road, check to make sure there are not any road closures or detours that will affect your travels. If you have to reroute your trip in an unfamiliar area, it is better to map it out ahead of time so you know what you are up against. This will make a big difference if you need to stay on a schedule and will save you the headache of trying to find your way around an unfamiliar area, especially if the weather is bad.
Check the Weather
It is also very important to check the local weather reports before you get on the road. Make sure to check the local forecasts in all the areas where you will travel, and sign up for weather alerts so you will get notifications if anything changes along the way. If bad weather lies ahead, you can prepare for it or avoid the area if you need to.
Follow these tips to make sure you have a safe winter road trip. The winter season is a fun time to travel as long as you prepare for changing weather and take the necessary precautions if you run into snowy or icy conditions.
Image via Flickr by OregonDOT