5 Ways to Enjoy the Summer in Lee's Summit, MO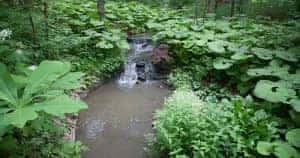 If you're looking for somewhere to spend summer that includes historic sites, being out on the water, and great downtown shopping, then Lee's Summit is the place for you. Here are the top five things to do and see in and around Lee's Summit.
Powell Gardens
Powell Gardens botanical garden is a peaceful, lush getaway that will have you whipping out your camera. The display gardens are exquisite to behold, as you make your way along the scenic trails. There are babbling waterfalls to be discovered among the lakes and meadows. This 915-acre treasure has been the muse for untold numbers of Instagram posts and photo albums. It is 20 miles east of Lee's Summit and is open year-round.
Historic Downtown
Contained in just six blocks, the Historic Downtown District boasts a wealth of shops that you'll want to browse through, and restaurants that you may want to try. Venture out to the area surrounding the Downtown District to appreciate historic homes and churches from the 1880s. St. Paul's Episcopal Church is the most well-known and has been opening its recognizable red doors to visitors since 1884. And if you're downtown on a Wednesday or Saturday, you'll catch the popular farmers market, which is available until November.
Missouri Town 1855
History buffs will love the immersive experience of Missouri Town 1855. Here you'll find 25 buildings preserved in what organizers call a "living history museum." The Town depicts a progressive farming community that looks just as it did in 1855. The effect is complete with an enthusiastic crew of interpreters in authentic period attire who will be happy to show you around.
Lake Jacomo
Lake Jacomo, which gets its name by combining Jackson County and Missouri, is a huge freshwater reservoir near Blue Springs. This 970-acre lake is a popular spot for fishing, boating, and swimming. Lake Jacomo sits at the south end of Fleming Park, a beloved park that is an attraction in its own right. You'll want to bring all the gear you need for a great day outside. That means you'll need the right vehicle to bring your bikes, coolers, and fishing gear to get the most out of the lake and park.
Lea McKeighan Park
The first thing you're likely to notice at Lea Mckeighan Park is the giant climbing pyramid in the playground. But be sure to look around and appreciate the other unique park features such as a bouncy tire swing fashioned like a hammock, and a fresh take on the see-saw that will have you hanging from ropes. There's even a mini version of the pyramid for younger visitors. The playground is the gem of the park, but it also boasts a pretty fountain, a zip line, a picnic pavilion, and plenty of green space.
Lee's Summit is a popular summer getaway for all of the reasons above and even more. Come see for yourself how history and natural beauty come together for fun and sun for the whole family.
Image via Flickr by ddoTyByhpargotohP