Authentic Mexican Food in Lee's Summit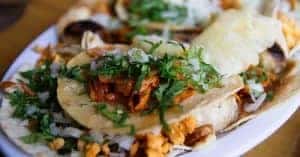 If you crave authentic hand-rolled, steamed tamales, tacos al pastor, or chicken mole, check out these top picks for real Mexican food in the Lee's Summit area.
Tacos El Marcadito
This hole-in-the-wall 'little taco market' is the perfect place. Tacos El Marcadito specializes in real Mexican street tacos, which are small, hand-made, soft corn tortillas filled with meat, onions, cilantro, and nothing else. Choose from traditional meats such as chicken, pork, or beef, or take a walk on the wild side and try the cabeza (beef head meat), lengue (beef tongue), or the crispy tripas (tripes).
If you crave real Mexican food and don't mind eating in a half market, half taco stand, check this place out. You can support a small family business and try something new. And you can stock up on Mexican groceries while you're there. 531 SE Melody Ln, Lees Summit, MO 64063
Sabor Latino
Tamales are about as authentic as you can get. Real tamales are hand-made with corn dough, stuffed, rolled and steamed in a plantain leaf wrapper. Sabor Latino serves tamales deserving of their rave reviews, with a warning to call ahead, because they might not have them on the menu that day. Sabor Latino also specializes in other types of Latin American food, such as plantana relleno, empanadas, pupusas, and pasteles.
Sabor Latino also serves tasty favorites such as chimichangas, tacos, and burritos. Sabor Latino is hidden in an out-of-the-way corner of a mall, but the atmosphere is casual, with fast, friendly service, and delicious food well worth a visit. 607 NE Woods Chapel Rd, Lee's Summit, MO 64064-1900
La Fuente
Like many successful restaurants of its kind, La Fuente offers fusion food from Mexico and the American Southwest. Tex-Mex is the most notable mix of Texas and Mexico, where hot chilis challenge the taste buds and sizzling fajita pans grace the tables. In addition to the usual Tex-Mex fare, try the highly rated chimichangas, tamales, or chicken enchiladas. Visit during happy hour for half-priced appetizers, loads of chips and salsa, and drink specials. 1255 NE Douglas St, Lee's Summit, MO 64086-4600
So whether you are looking for a real hole-in-the-wall taco stand, endless chips and salsa, good portions, or Taco Tuesdays, be sure to visit these restaurants for something fresh and tasty.
Image via Flickr by william.neuheisel