The Best Places to Try Seafood in Lee's Summit, MO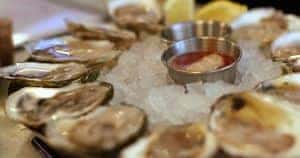 Whether you are already a seafood lover or you want to try a dish for the first time, there are some places in Lee's Summit, Missouri, where you can get some wonderful specialty fish and seafood. Local restaurants serve everything from fresh tuna to fish tacos and everything in between, so you can try something new every time you go out. Here are the best places to try seafood in Lee's Summit, Mo.
Canoe Club Lakeside Grill
This local restaurant sits right on Colbern Road in Lake Lotawana, Missouri. The chef creates dishes using original recipes with both meat and fish options, and it is all served in a homey and casual atmosphere. For an appetizer, you can try the flash-fried calamari with a homemade jalapeño cream sauce or tempura shrimp, and for dinner, Canoe serves a delicious blackjack salmon or mahi-mahi along with fish and chips, if you want something fried.
Jazzy B's
Jazzy B's is a local favorite for the shrimp po'boy. This sandwich features beer and mint marinated shrimp served on a hoagie roll and then covered with a homemade coleslaw and a honey aioli sauce. Even though it is a barbecue place, there are several seafood options on the menu. The crab ball appetizer is packed with crabmeat and comes with three per order. You can also get the beer fish and chips from Jazzy B's. This is a beer-battered swai served with a heaping side of french fries.
Jax Fish House Kansas City
Just a few miles outside of Lee's Summit, you will find Jax Fish House Kansas City. If you have never tried oysters before, this is the place to do it. You can also try the fried clam strips, which come with a few different dipping sauces. This includes a fantastic mango-chili mojo sauce. Jax has as surf and turf option as well that comes with braised short ribs and a choice of lobster tail or crab legs. This comes with drawn butter, a vegetable choice, and potatoes. If you have a big appetite, try The Line. This seafood platter on ice comes with lobster tail, king crab legs, fruit de mer, two east coast oysters, two west coast oysters, and a small serving of caviar.
Summit Grill and Bar
Summit Grill serves up classic American dishes including a selection of seafood. For starters, there is a togarashi fried shrimp with sriracha-lime aioli or a seared Ahi tuna. For a main dish, you can try the shrimp and grits or the Romano-crusted tilapia with mashed potatoes and lemon butter. There is also wonderful blackened mahi-mahi tacos and a lobster-stuffed salmon if you want to try two different kinds of seafood in one dish. Summit Grill sits on NE Lakewood Way in Lee's Summit, and you can head here for lunch or dinner.
These are a few of the places in the Lee's Summit area where you can try seafood whether it is for the first time or you just want to try something new.
Image via Flickr by Jules Morgan