Families Will Love the 2018 Kia Soul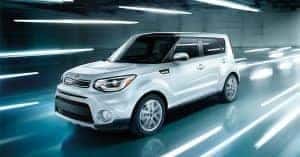 The Kia experts at Cable Dahmer Kia in Lee's Summit, Missouri, are especially impressed with the 2018 Kia Soul, and they have reason to believe that it will be the perfect match for you and your family. The vehicle sports a number of new features and perks that make it stand out from previous years' models without compromising the sense of style, reliability, and affordability which has come to be associated with the Kia brand.
We'll examine just a few of those features here in order to give you a good idea of what you can expect from this perennially popular South Korean crossover vehicle.
Style
Coming in a variety of eye-catching colors like Inferno Red, Bright Silver, and Titanium Gray, the 2018 Kia Soul is sure to turn heads wherever it goes. The exterior of this popular crossover hatchback has been designed with a sleeker and more sophisticated body in mind. A variety of colored LED lights are available for the rear of the vehicle, making sure that everyone will notice you even as you leave them in the dust. A closer inspection of the Soul's body reveals bold red accents and an interior trim featuring lively orange stitching.
As the 2018 Soul retains its four-door body design, you'll have plenty of seating room for the family. The new model preserves the features of previous years and compares favorably to other vehicles in its class, while simultaneously offering improvements all its own.
Reliability
You take the safety of your family very seriously. Featuring high-intensity discharge headlights and LED front fog lights, the 2018 Kia Soul ensures that nighttime visibility is better than ever before. The turbocharged 201 horsepower engine also gives you the performance power to arrive at your destination, whether you are dropping your kids off at school or taking a cross-country road trip. The Kia Soul is also available as an electric model, providing the same Kia reliability with the additional benefits of an energy-saving, clean vehicle.
Affordability
The 2018 Kia Soul is available with either an automatic or manual transmission. The MSRP for these options is $16,100 and $17,700, respectively. So, families can get a reliable, stylish vehicle without breaking the bank. Since the Soul is perfect for hauling the family across the country or taking the kids to soccer practice, you'll be sure to get the most out of your new vehicle.
With additional perks like ventilated and heated driver and passenger seats, comfortably soft interiors with adjustable LED mood lighting, and a push-button ignition starter, it's clear that the manufacturer has upped its ante with the 2018 Kia Soul. The helpful staff at Cable Dahmer Kia will be able to enumerate the special features that make this model what it is, and they can help you decide which options are best suited to your budget and lifestyle. So don't hesitate to get in touch with Cable Dahmer Kia now; your new car may be just a phone call away.
Image via Kia Motors