Where to Get the Best Burgers in Lee's Summit, MO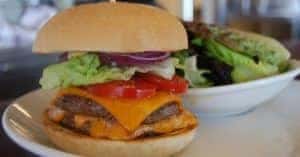 Burgers are one of the best parts of a long summer day. Unfortunately, summer is coming to an end, but you can still enjoy the best burgers in Lee's Summit if you know where to look. Stop by one of these five restaurants to satisfy your cravings.
Doc's Tavern
The tasty appetizers, beers on tap, and a full bar are good reasons to visit Doc's Tavern. But once you try the grilled cheese burger, you'll know that's the thing that keeps loyal fans of Doc's coming back for more. The grilled cheese burger takes the classic Doc's burger and puts it between two grilled cheese sandwiches instead of a bun. It is even available as a double if you need more grilled cheese. Why hadn't anyone thought of this before?
UNK's Burger
UNK's Burger will have your head spinning with all of the creative ways they serve up their fresh, juicy patties. The Ryan Special — along with its progeny Ryan Jr. and Ryan Little — features burger patties right alongside a fried chicken breast for a stack of deliciousness you won't soon forget. UNK's also has a penchant for some spice, and several of their specialty burgers come with fixings that include ghost pepper cheese and oh-so-hot habanero peppers. UNK's has classic burgers and even a veggie burger for those who can't stand the heat.
The Peanut
The Peanut features a wide selection of specialty burgers that are sure to satisfy any craving. The Bacon and Egg Cheeseburger is a sure bet. If you are in an adventurous mood, go for the Peanut Butter burger, which includes a healthy spread of the condiment. The onion rings at The Peanut are a crisp and succulent addition to any burger you pick here.
Freddy's Frozen Custard and Steakburgers
Freddy's is the place to go when you need a reliable, classic burger but you want a frozen custard concrete just as bad. You can't beat Freddy's original double, though you might find that you like it California style every now and again. Freddy's also has hot dogs, patty melts, and chicken sandwiches if you're dining with folks who don't go for burgers. For a limited time, Freddy's has a Hatch Green Chile burger on the menu, which features green chiles, grilled onions, mustard, and cheese.
Johnny Ray's Drive In
You'll love the historic vibe you get when you belly up to the counter of this long-standing diner. The burgers at Johnny Ray's are simply good, old-fashioned fare served up hot and fast with no frills. This is a spot for a side of nostalgia with your steakburger, unless of course you prefer their famous-for-a-reason onion rings. To top it all off, if you show up on the third Saturday of the month during summer, you can enjoy a classic car show that will complete your time-traveling journey with Johnny Ray.
Even as summer comes to an end, you'll find that cookout feeling into the fall now that you know where to find the best burgers in Lee's Summit. After you fill your belly, stop by Cable Dahmer Kia to test drive one of our new cars.
Image via Flickr by Stu Spivack