Stay Fit and Active This Winter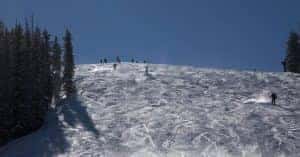 Wintertime, with its short days and long nights, can also mean plenty of lazy days, but it's important to stay active even when the weather turns cold. If you plan on visiting a part of the country where it gets cold and snowy in the winter, there are some things you can do to stay fit and active. Be sure to winterize your car first! Here are some tips and ideas for winter activities both inside and outside.
Head for the Mountains
Cold weather doesn't mean you have to stay inside. There are numerous winter activities that are just as fun or even more fun than summer activities. If you've never tried skiing before, now is the time to do it. Bundle up and hit the slopes for a fun day of fresh, brisk air, and exhilarating fun. All mountains offer lessons for beginners of all ages, so it's never too late to start.
Go Snowshoeing
If you want to keep the thrill level down but still want to enjoy the snow, snowshoeing is a great way to get some exercise. You can either rent some at a local shop or buy some to keep and then just head out on any walking path. Make sure to dress warmly and wear layers that you can peel away if you start to get warm, and put on a good pair of mittens or gloves. It's also a good idea to use a pair of trekking poles or ski poles, and make sure you wear waterproof boots or hiking shoes to keep your feet warm and dry. Once you have all the gear, get out on some hard-packed snow to get the feel of how to walk with the snowshoes on, and start enjoying the fresh winter air.
Go Sledding
There's no better exercise than walking up a hill with a sled, and you also get the benefit of the fun ride down. Sledding is something you can do with the whole family, and everyone will have a blast. If you don't have a sledding hill near your house, pile the sleds and the family in the car and take a drive to find one. You can even enjoy some hot chocolate after a fun day playing in the snow.
Join a Gym
If you plan on staying in the Kansas City area instead of visiting a snowy destination, the gym is a good place to go in the winter if you want to stay out of the cold while you exercise. Find a local gym that offers a variety of classes and equipment, and make it part of your routine. Whether you like to get up and go in the morning before work or you prefer going at the end of the day, you can always get a quick workout in at the gym.
These are just a few ways to stay active during the winter months. If you head outside, remember to dress in waterproof layers and keep an eye on the weather.
Image via Flickr by fritzcat