Where to Get Great Chinese Food in Lee's Summit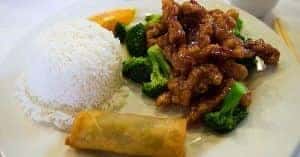 Chinese cuisine is practically a national staple in this country and is a particular favorite when you have a big appetite. If you're feeling hungry and can't fight the craving for the delicious and filling cuisine, we've complied an introduction to five of Lee's Summit's most popular Chinese restaurants.
1. China King
305 NE Todd George Road, Lee's Summit
China King is a small hole-in-the-wall known for an exceptional crab rangoon with a clever combination of sweet and salty flavors. Order the orange and sesame chicken and it will be tender and full of flavor. You should also try their wonderful egg drop soup or delicious pancakes with plum sauce.
Expect to be warmly welcomed by the family that owns the restaurant. They won't hesitate to make you something else if you don't like your meal choice. If you order takeout, your meal will be ready within 15 minutes and the portions will be generous.
2. Panda Café
927 NE Woods Chapel Road, Lee's Summit
You will feel like a long-lost friend when you visit the Panda Café. The owners are warm and welcoming, and the food is prepared with love.
You will be impressed by both the taste and presentation of the orange chicken, will likely ask for seconds of the dumplings and egg rolls, and will rave about the crab rangoon. Prices are very reasonable, making this restaurant a great choice for a large family with big appetites.
3. Young's Chinese Restaurant
601 NE Woods Chapel Road, Lee's Summit
The moo goo gai pan and steamed dumplings at Young's Chinese Restaurant are delicious. They also serve a delicious and tasty sushi roll. Expect meals that are consistently fresh and appetizing, as well as ample in portion.
Young's is also a convenient option for the midday meal, as they have more than 20 items on their lunch menu. They are accommodating with selective diets, with appealing options for every taste.
4. Master Wok
3757 SW Raintree Drive, Lee's Summit
Master Wok is a hidden gem with a great atmosphere and a fresh and affordable menu. The service is fast and friendly and a drive-up window provides added convenience when taking out.
The delectable pork with garlic sauce and general's chicken are must tries, and the cashew chicken is regarded by many as the best in town. The portion sizes of the dinner entrees are generous, so be prepared to take some leftovers home.
5. China Dragon J Chinese Restaurant
436 SW Ward Road, Lees Summit
The buffet at the China Dragon is awesome, and so is their sushi. Impressively designed and spacious in size, this restaurant is ideal for lunch, dinner, or celebrations.
The service is great, and the food is hot, delicious, and fresh. Regular diners rave about the delectable sushi, and recommend the kung pao chicken, princess chicken, or beef egg foo young.
Remember these restaurants the next time you crave those distinctive Chinese flavors of cinnamon, garlic, and ginger. You may discover a new local favorite.
Image via Flickr by pointnshoot